Clogged Drain Overflow Cleanup & Restoration in Imperial & Riverside County and Throughout CA & AZ
Overflow cleanup & restoration services:
Clearing clogged drains
Water pump-out and drying
Sanitizing for safety and mold prevention
Kitchen drain overflow cleanup, restoration & repair
Bathroom drain overflow cleanup, restoration & repair
Toilet overflow cleanup & repair
Washing machine overflow cleanup
We can repair water damage caused by a clogged toilet, sink, or bathtub
ServiceMaster A Plus Restoration provides fast, pump out and cleanup services in response to most plumbing disasters.
Water damage from clogged drains and overflowing fixtures or appliances arrive unexpectedly. Quick action is needed to minimize damage.
We have trained technicians ready to aid your water emergency on a 24/7 basis. To ensure the safety of workers and property owners, we will determine the cause of the overflow and shut down the water supply if it hasn't already been done.
After we remove the unwanted water, we begin the drying and restoration process.
Schedule A Free Inspection
Call or contact us online for sink overflow cleanup, toilet overflow cleanup, and other water overflow problems. We work throughout the Imperial & Riverside County area, including Riverside, Corona, Moreno Valley, Norco, Temecula and nearby.
We remove water & repair any damage left behind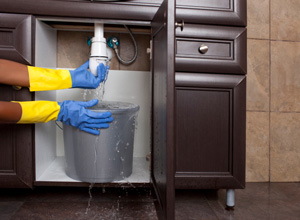 Prevent clogs to avoid a mess. An overflowing drain not only creates a wet mess, but it can result in serious water damage. Sink or toilet water may also contain bacteria that can be hazardous to your health. The best way to deal with an overflowing drain is by keeping drains clear.
A wide range of cleanup, repair and restoration work must often be performed in response to a clogged drain and water overflow problems. ServiceMaster A Plus Restoration is equipped and ready to take on whatever type of water emergency you may be experiencing.
While the best way to avoid an overflowing kitchen or bathroom drain is by keeping your drains free of clogs, this is sometimes easier said than done. If and when your sink, bathtub or toilet does overflow, our specialists can respond quickly to stop the water, clean up the mess and provide drying services to take care of moisture and prevent mold.
Instead of calling a number of different contractors and trying to coordinate their assignments, why not make a single call and let us do it all? Our experts are standing by to help.
If you live in or around the Imperial & Riverside County area of California & Arizona, contact us today to schedule an inspection for water damage restoration. The sooner you take care of the water problem, the better.
Looking for a price? Get a no cost, no obligation free estimate.